Gambling & Casino Laws In Australia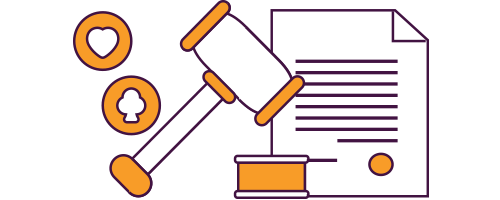 Australians have enjoyed a long history of gambling in one form or the other – starting with betting on horse races in the 1800s and widespread use of lotteries in the early 1900s to the era of legal pokies in the 1950s. Today, Australia is one of the most gambler-friendly nations in the world, which comes as a surprise to its strict prohibition of unlicensed gambling in the past. Gambling is a favourite recreational activity among Australians in the present day with the government enjoying huge tax benefits from it.
What Is The Legal Age To Gamble In Australia?
In Australia, the minimum age in which you can legally take part in gambling activities either in land-based casinos or at an online gambling website is 18. If you are below 18, you are not allowed to even access free games online or at any location offering real money games.
Australia's Legal Policies on Gambling
1. For Land-based Casinos
The first major gambling law in Australia was enacted in 1852. There were laws including 'Act to Restrain the Practice of Gambling and the Use of Obscene Language' and 'Vagrant Act' that prohibited games such as Two-Up and Tan-Tan. Horse race betting, although, was considered legal. Card games were still seen as a threat and restraining laws were enforced against them. After the 1970s, pokies and casinos were legalized across all states of Australia during different periods.
Today, land-based casinos operating in Australia are regulated under the Casino Control Act of 2006, a federal casino regulation applicable to all of Australia. According to this law, operating casinos in Australia is legitimate, given they follow the appropriate regulations. The law also details guidelines for various State and Territory gaming committees since brick-and-mortar casinos are regulated on an individual State level. These territorial regulatory bodies issue licenses to casinos and monitor their gambling activities.
Australian casinos are permitted to offer a wide variety of games including Video Poker, Roulette, Rapid Roulette, Mini Baccarat, Blackjack, Three Card Poker, Caribbean Stud, Pontoon, Craps, Pai Gow and Sic Bo.
2. For Online Casinos
Alongside the spread of land-based casinos, internet casinos started to spring up in the 1990s, offering gambling opportunities to players worldwide. Aussies also started playing online casino games such as roulette, poker and pokies. An Interactive Gambling Act by the Australian Commonwealth Parliament was passed in 2001. Online casino gambling is regulated on a federal level with laws applicable to all states.
Interactive Gambling Act of 2001
According to the Interactive Gambling Act of 2001, Australian internet casinos are restricted from offering interactive gambling games to Aussie players based on real money. Moreover, they also cannot advertise their gambling services dealing with real money to Australians. However, the law does not prohibit Australian players to engage in online gambling.
The act mainly focuses on companies based in Australia, which means internet casinos registered outside Australia are not held back by this law. Despite the IGA in place, offshore internet gambling websites are not blocked by ISPs and many of them are open to Australian players. The foreign-owned internet casinos operating from offshore sites do not fall under Australian jurisdiction. This implies that the IGA and Australian authorities have no power to prosecute them.
Many Australian online casinos are in fact today licensed in many major licensing jurisdictions around the world such as Gibraltar, Malta, Kahnawake, Alderney, Antigua and Barbuda, Curacao and the United Kingdom.
How does the IGA affect Australian players?
The IGA does not make it illegal for an Australian resident to use online gambling services. Australian gamblers can legally play on international online casino sites. There is a decent selection of international casino websites that welcome Australian players and accept Australian dollars.
Don't be surprised if you open an Australian online casino and find it to be licensed from the Gibraltar Regulatory Authority, the Kahnawake Gaming Commission or the UK Gambling Commission. Since they have been licensed out of Australian jurisdiction, they can safely offer their services. Aussies can legally and securely play on these online casinos since they have already passed rigorous checks before being issued a license from one of these trusted authorities.
The IGA protects its online gamblers as they can lodge a complaint against an abusive online gambling service through the Australian Communications and Media Authority (ACMA). This mostly applies to licensed sportsbooks and not to offshore gambling sites since they lie outside Australian jurisdiction. But, nevertheless, these online casinos have already passed rigorous checks during licensing procedures, so players have nothing to worry about in terms of casino credibility.
Current Legislative Scenario in Australia
Online gambling rules are quite stringent for gambling providers. There seem to be discussions going on within the government to relax the IGA in the years to come. Legislators are pushing regulatory authorities to allow in-play online betting on sports and to widen the scale of betting products offered to Australians. Given its popularity in Europe, many efforts are underway in Australia to change the law on live online betting.
On one hand, you may find it completely illegal for internet casinos to offer their services to Australians, while on the other hand online sports betting is permitted. When sports betting operators function within the gambling regulations and hold the required permits, they can legally provide their services.
The Interactive Gambling Act of 2001 does not prohibit all forms of online gambling. Rather it focuses only on interactive gambling. Online sports' betting done through operators that are licensed is only legal when the betting takes place before the event begins. Hence, the 'live' or 'in-play' betting during sports is considered interactive and therefore prohibited. However, Australians can wager on live sport events through international online sports betting sites, since any violations only result in penalties for the betting operator and not the punter.
Australian lotteries can legally sell lottery tickets online. Nonetheless, 'instant win' games such as scratch cards are considered illegal when offered online, since they come under the realm of interactive gambling.
The Future of Australian Online Gambling Legislation
As more and more Aussies are engaged in wagering at online casinos outside Australian borders, talks have surfaced in the parliament against making amendments to the Interactive Gambling Act. In 2009 the Productivity Commission, dealing with gaming policies, proposed offering online poker and casino products to Australians but with strict controls. This proposal was rejected in 2013. Later in 2014, a working group was formed by the government to study online gambling. Fingers are crossed for a future of relaxed regulations for online casinos and pokies in Australia. Nonetheless, for the time being, Australian punters remain keen on enjoying online gambling at international licensed internet casinos.
Who Regulates The Aussie Gambling Industry?
The Australian Commonwealth Parliament oversees matters in the gambling industry, but the in-depth responsibility lies with regulatory bodies of the individual states. These are as follows:
Victorian Commission for Gambling and Liquor Regulation - Victoria
ACT Gambling and Racing Commission - Australian Capital Territory
Independent Gambling Authority - South Australia
Department of Racing, Gaming and Liquor - Western Australia
Tasmanian Gaming Commission - Tasmania
Office of Liquor, Gaming and Racing - New South Wales
Office of Liquor and Gaming Regulation - Queensland
Licensing Commission - Northern Territory
Finding a Legal Online Casino
When gambling online with your precious Australian dollars, it is highly essential that you make sure the internet casinos you plan to game on have a strong reputation. You already have a lot on your online plate – which games to play, which websites offer attractive bonuses, what to play your game on (laptop, mobile, or tablet), which means to use to deposit funds and withdraw winnings and more. Don't get carried away with these essentials alone. Beware of dodgy online casino websites. You don't want your winnings to disappear in thin air!
Below is a guide for Aussies on finding secure internet casinos to enjoy a safe and legal gaming experience.
Factors to Look Out For In a Safe and Legal Internet Casino
1. Credentials
One sign of a legal online casino is the license it holds. You can find such information at the bottom of the casino's homepage. These globally recognized organizations analyse the internet casino's legitimacy and have strict regulations that have to be met by online gambling providers to become internationally certified. Moreover, regular auditing is also carried out to assess the online gambling website's fairness. Prominent licensing jurisdictions include the UK, Gibraltar, Malta, Alderney, the Isle of Man, Kahnawake, Curacao, Netherland Antilles, and Antigua.
2. Financials
You can take a look at the financial methods the online casino relies on to judge its legality. Top rated casinos use a variety of major banking methods such as Visa, MasterCard, Neteller, Ukash, Skrill, POLi and more to facilitate deposits and withdrawals. Before being approved for business banking options, the online casino is verified for legitimacy since credit operators do not want to destroy their reputation when partnering with an illegal company. The more disreputable casinos will only accept deposits in the form of checks, cash or wire transfer to build an account balance.
3. Payout Percentages and Cashing Out Times
A good casino usually offers cash out times between 24 and 72 hours depending on the type of withdrawal method selected and the time at request. Moreover, higher payout percentages mean higher credibility.
4. Encryption Software
Internet casinos that care about their reputation understand the security concerns of their players. This is why they rely on 128-bit encryption software to process thousands of dollars in deposits and withdrawals every day. The software online casinos rely on generally includes Microgaming and Net Entertainment. Any of these industry names signify that the online casino is reputable.
5. Reputation
Google the internet casino and see what comes up in the search results. Reputable online casinos are usually much talked about in blogs, message boards and forums. You can also check the About Us page of the online casino site to find out who is behind the setup.
Taxes on Gambling and License Fees
For Australian punters, the government has some great news in their favour. All your gambling winnings are subject to zero tax. Australia views gambling winnings as a result of luck and not income. Gambling is not considered a profession, but rather a hobby. Therefore, you can enjoy Australia's favourite pastime without worrying about any tax levied on your winnings.
However, the government imposes taxes on gambling operators such as casinos and betting companies in Australia. In Australia, the taxation of gambling operators varies from one state to another.
Turnover Tax
Each type of gambling activity is taxed in a different way. The turnover tax is applied to gambling activities by charging a tax based on the cash volume generated. The gambling activities subject to turnover tax consist of bookmakers (racing and sports betting), Keno, lottery subscriptions, Totalisator wagering on racing and draw card machines. The player in this case is unaffected by the turnover tax in any way.
Tax on Player Loss
The Australian government generates ample revenue by imposing taxes on gambling providers based on losses to players. Gambling providers engaged in offering services such as sports betting, TAB sports betting, pokies in casinos, hotels and clubs, Totalisator wagering on racing, Keno and casino gambling are required to pay tax on player loss. Tax on player loss is tax levied on how much gambling providers have earned from losses suffered by players in wagering.
Net Profits Tax
Net profits tax is a tax imposed on the net profits of gambling companies. Gambling activities such as poker machines and off-course totalisator investment are subject to net profits tax.
License Fees
All companies in the gambling industry are required to get themselves licensed for running their business. They are required to pay an additional license fee, otherwise they would be breaking the law and will incur massive penalties. Businesses that are engaged in providing the following types of gambling services are required to pay license fees.
Pokies
Casinos
Lotteries
Bookmakers
Racing
Sports betting
Bingo
Raffles
Punters should always be knowledgeable about what's legal in gambling and what is not. Only then can they enjoy a trouble-free session of pokies, roulette, or any other form
of gambling.
These pages may also interest you